Fact Friday 202 - Charlotte's All-Black Schools
Happy Friday!
In 1957, four brave African-American students crossed the color barrier to integrate Charlotte's city school system. These students chose to be reassigned from their all-black schools to all-white schools in order to get a better education. Their actions were the beginnings of a great change.
At that time, Mecklenburg County essentially had four school systems: 
white city schools
black city schools
white county schools
black county schools
The white schools, both city and county, were better funded and equipped than the black schools.
In 1960, the voters of Mecklenburg County chose to consolidate the city and county school systems into one large Charlotte-Mecklenburg School System. This controversial and difficult task led to many changes and paved the way towards racial integration.
In 1968, court-ordered integration of the new school system began. Many students, both black and white, were bused to far-away schools to achieve integration. 
In 1957, when four black students broke the color barrier, thousands of other black students attended the city's and county's all-black schools.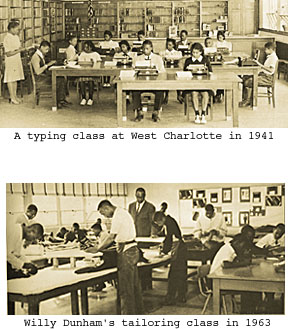 All-Black City Schools 
Alexander Street Elementary School 
Billingsville Elementary School 
Isabella Wyche Elementary School
Marie G. Davis Elementary School
Myers Street Elementary School
All-Black County Schools
Chris. 
Email me at chris@704shop.com if you have interesting Charlotte facts you'd like to share or just to provide feedback!
 
Information taken from:
cmstory.org, Charlotte-Mecklenburg Story, "Charlotte's All-Black Schools"
"We have to do with the past only as we can make it useful to the present and the future." – Frederick Douglass
---